L Plus Series HD LED Display
Application: Indoor Fixed Installation
Pitch: 1.9mm, 2.6mm, 2.98mm, 3.91mm
---
L Plus Series HD LED Display, a cutting-edge solution that offers unparalleled flexibility in creating LED displays of various sizes. With six different cabinet sizes available – 1000x500mm, 1000x250mm, 750x500mm, 750x250mm, 500x500mm, and 500x250mm—you can customize your LED display to perfectly fit your needs.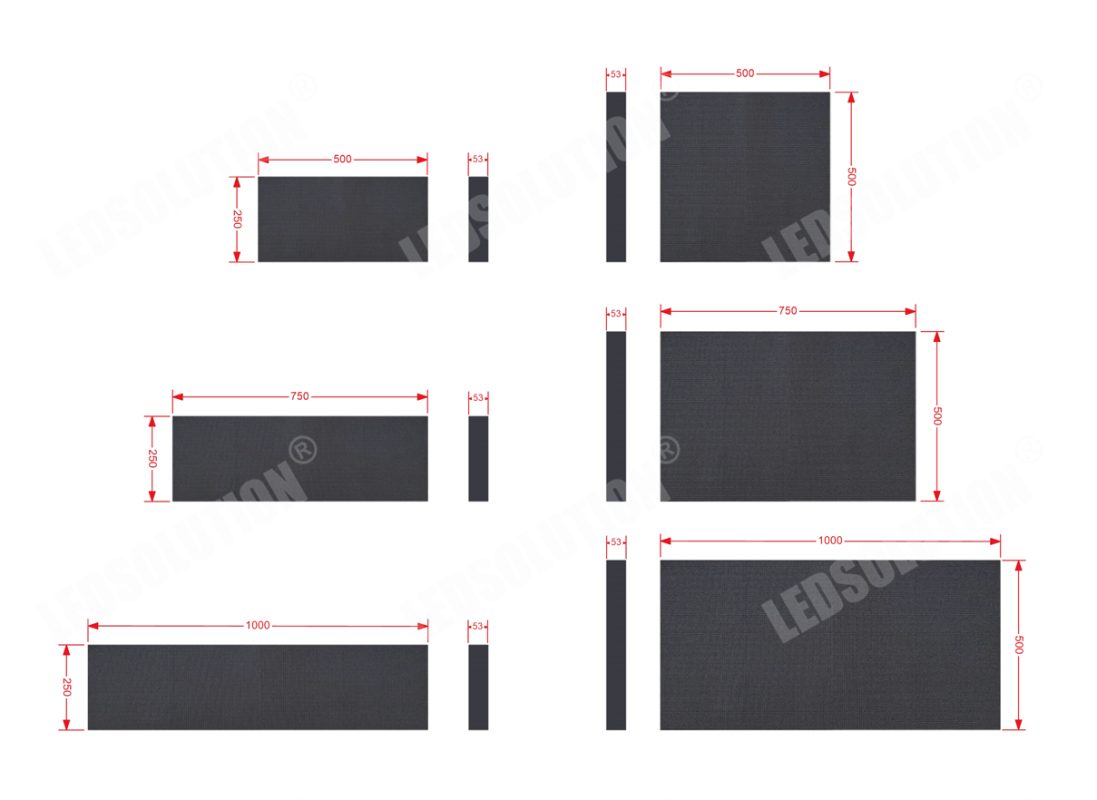 What sets the L Plus Series HD LED Display apart is its full front service design. The cabinets can be effortlessly fixed from the front side, allowing for easy maintenance and module replacement. No more hassle of accessing the back of the display!
Additionally, the L Plus Series HD LED Display offers a unique corner design option, enabling the configuration of LED columns. This feature opens up exciting possibilities for innovative and eye-catching displays that captivate your audience.
Experience the ultimate convenience and versatility of the L Plus Series HD LED Display. Create stunning LED displays with ease, maintain them effortlessly from the front, and explore creative possibilities with the corner design option. Discover a new era of visual excellence with the L Plus Series HD LED Display.
L Plus Series HD LED Display Feature
Extremely high resolution;
Excellent image & video quality;
Flat & seamless surface;
Thin & light LED panel design;
Low power consumption, environmentally friendly;
Wide viewing angle, 140 degree both horizontal and vertical;
Module option:SMD and GOB;
Front service solutions available to fit different installation sites.
L Plus Series HD LED Display Specification
| | |
| --- | --- |
| Parameter | Value |
| Application | Indoor |
| Pitch | 1.9 / 2.6 / 2.98 / 3.91 mm |
| Pixel density | 262144 / 147456 / 112896 / 65536 pixel/sq.m |
| Brightness | 800 / 1000 / 1000 / 1000nit |
| Color temperature | 6500deg. K |
| Viewing angle – Horizontal | 140(-70 ~ +70) deg. |
| Viewing angle – Vertical | 140(-70 ~ +70)deg. |
| Module size(W*H) | 250*250mm |
| Module resolution(W*H) | 128*128 / 96*96 / 84*84 / 64*64 pixels |
| Cabinet size(W*H) | 1000*500 / 1000*250 / 750*500 / 750*250 / 500*500 / 500*250 mm |
| Cabinet depth | 53mm |
| Cabinet material | Die-cast Aluminum |
| Cabinet weight | 22kg/sq.m |
| Cabinet mode | Fixed installation |
| Service access | Full front service |
| Ingress protection (front/rear) | IP23/IP43 |
| Operating temperature range | -30 to +60 deg. C |
| Humidity operating | 10% ~ 90% RH |
| Pixel type and configuration | 3in1 SMD |
| Colors | 281 Trillion |
| Grey scale (linear) | 65536 levels per color |
| Brightness control | 100Levels |
| Contrast ratio | 3000:1 |
| Processing depth | 16bit |
| Video frame rate | 60Hertz |
| Display refresh rate | 1920 / 3840Hertz |
| Input voltage (nominal) | 110 / 220VAC |
| Input power frequency | 50 to 60 Hertz |
| Input power (max) | 600 Watts/ sqm |
| Input power (typical) | 240 Watts/ sqm |
| Lifetime (50% brightness) | ≥100000 |
| Red wavelength (dominant) | 620~625nm |
| Green wavelength (dominant) | 525~530nm |
| Blue wavelength (dominant) | 470~475nm |
| Multimedia data format | DVI,MPG,AVI,WMV,RM etc. |
| Data interconnection | UTP Cat 5/Optical Fiber |
| Controller | NOVA |
L Plus Series HD LED Display Video
L Plus Series HD LED Display Project Cases