C Series HD LED Display
Application: Indoor Fixed Installation
Pitch: 1.25mm, 1.5mm, 1.8mm, 2mm, 2.5mm, 3mm, 4mm
C Series HD LED Display has 4 different cabient sizes: 960x480mm, 640x640mm, 640x480mm, 320x480mm. With these sizes of cabinets, C Series HD LED Display can config any size of LED Displays.
C Series HD LED Display is full front service, Cabinet can be fixed from front side, modules can be fixed / maintain from front side.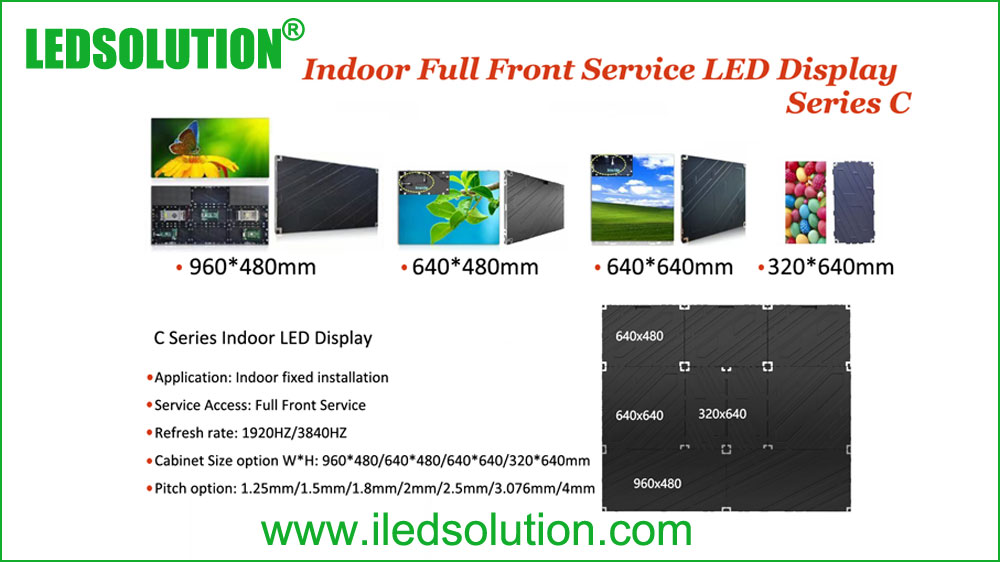 C Series HD LED Display Feature
Extremely high resolution;
Excellent image & video quality;
Flat & seamless surface;
Thin & light LED panel design;
Low power consumption, environmentally friendly;
Wide viewing angle, 140 degree both horizontal and vertical;
Module option:SMD and GOB;
Front service solutions available to fit different installation sites.
C Series HD LED Display Specification
| | |
| --- | --- |
| Parameter | Value |
| Application | Indoor |
| Pitch | 1.25 / 1.5 / 1.8 / 2 / 2.5 / 3 / 4mm |
| Pixel density | 640000 / 422500 / 288906 / 250000 / 105625 / 62500 pixel/sq.m |
| Brightness | 600 / 600 / 800 / 800 / 1000 / 1000 / 1000 / 1000nit |
| Color temperature | 6500deg. K |
| Viewing angle – Horizontal | 140(-70 ~ +70) deg. |
| Viewing angle – Vertical | 140(-70 ~ +70)deg. |
| Module size(W*H) | 320*160mm |
| Module resolution(W*H) | 256*128 / 208*104 / 172*86 / 160*80 / 128*64 / 104*52 / 80*40 pixels |
| Cabinet size(W*H) | 960*480 / 640*640 / 640*480 / 320*480mm |
| Cabinet depth | 60mm |
| Cabinet sq. meter | 0.4608 / 0.4096 / 0.3072 / 0.1536sq.m |
| Cabinet material | Die-cast Aluminum |
| Cabinet weight | 7.35kg/cabinet |
| Cabinet mode | Fixed installation |
| Service access | Full front service |
| Ingress protection (front/rear) | IP23/IP43 |
| Operating temperature range | -30 to +60 deg. C |
| Humidity operating | 10% ~ 90% RH |
| Pixel type and configuration | 3in1 SMD |
| Colors | 281 Trillion |
| Grey scale (linear) | 65536 levels per color |
| Brightness control | 100Levels |
| Contrast ratio | 3000:1 |
| Processing depth | 16bit |
| Video frame rate | 60Hertz |
| Display refresh rate | 1920 / 3840Hertz |
| Input voltage (nominal) | 110 / 220VAC |
| Input power frequency | 50 to 60 Hertz |
| Input power (max) | 600 Watts/ sqm |
| Input power (typical) | 240 Watts/ sqm |
| Lifetime (50% brightness) | ≥100000 |
| Red wavelength (dominant) | 620~625nm |
| Green wavelength (dominant) | 525~530nm |
| Blue wavelength (dominant) | 470~475nm |
| Multimedia data format | DVI,MPG,AVI,WMV,RM etc. |
| Data interconnection | UTP Cat 5/Optical Fiber |
| Controller | NOVA |
C Series HD LED Display Video
C Series HD LED Display Project Cases