LED Multi-screen mosaic process, allowing free splicing, trans-conductance, overlay, roam and zoom.
Unlimited screens for a single output, realizing free display of all input signals.
Custom resolution, single output perfect display horizontal maximum 4000 pixels, vertical maximum 2000 pixels.
CrossInt mosaic processing technology, effectively eliminating mosaic dislocation and desynchronization.
Flexible board design with a single board supporting blending of diversified signals.
Seamless switch between channel signals or even entire template plans.
Support up to 200 modes and overlay of multiple image-text captions.
Support HD base map and allowing source materials to be prestored in the equipment.
Support input signal character overlay, realizing signal mark easily.
Based on FPGA array, pure hardware architecture, no system crash risk, and 24*365 not-stop operation.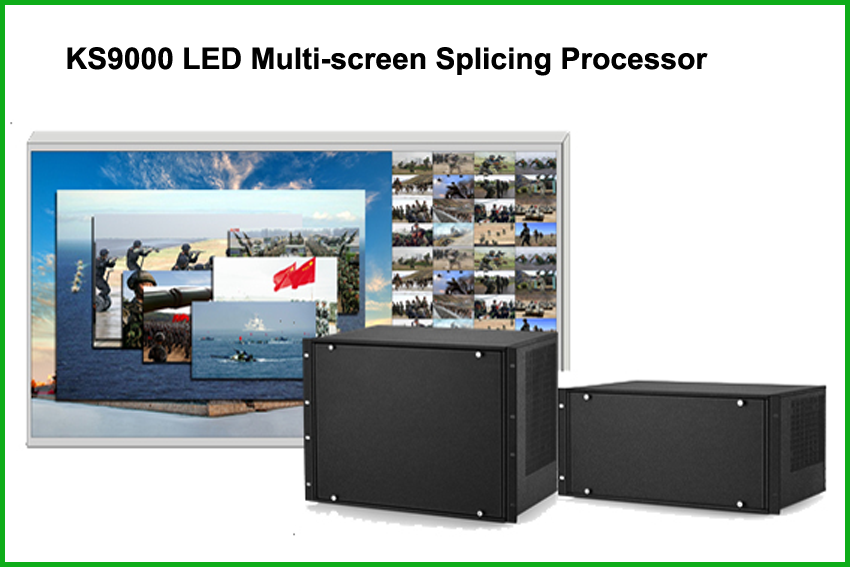 KS9000, as a high performance multi-picture mosaic processor specially designed for LED display, can easily drive super large resolution LED displays and provide multiple superior functions covering multi-picture processing, image-text caption overly, seamless scene and signal calling.
Outstanding Windowing Capability
Multi-picture Layout
Common mosaic processors limit the number of screens for a single output.
Any output channel of KS9000 can display all input sources with unlimited number of image displays in a single output and all signals can be overlaid freely.
Inquire us​
We will come back to you within 2~24hours on working days.