Taxi top LED display is more and more widely used as an outdoor advertising media. LEDSOLUTION provide different product models of taxi top LED displays to meet customers' demand. Meanwhile, our R&D team never stops their effort to study and improve the product, so that to make upgraded versions.
Brightness is very important for a taxi top LED display, as the taxi keeps running in the daytime every day. To make the taxi top LED display more dazzling and attractive, we produced high brightness LED displays. By adopting high quality and high brightness outdoor SMD LEDs, the brightness reaches 7000nit. This makes the taxi top LED display completely visible even in strong sunlight. It improves the visibility and will attract more audiences. The brightness can be adjusted manually on the software or by automatically by the brightness sensor.
Another improvement on this product is that, we are using a non-reflective acrylic front cover. Compared with the reflective covers, it gives better viewing effect when there is light shining on the LED display, making it clearer and more beautiful. Therefore, it helps make better adverts.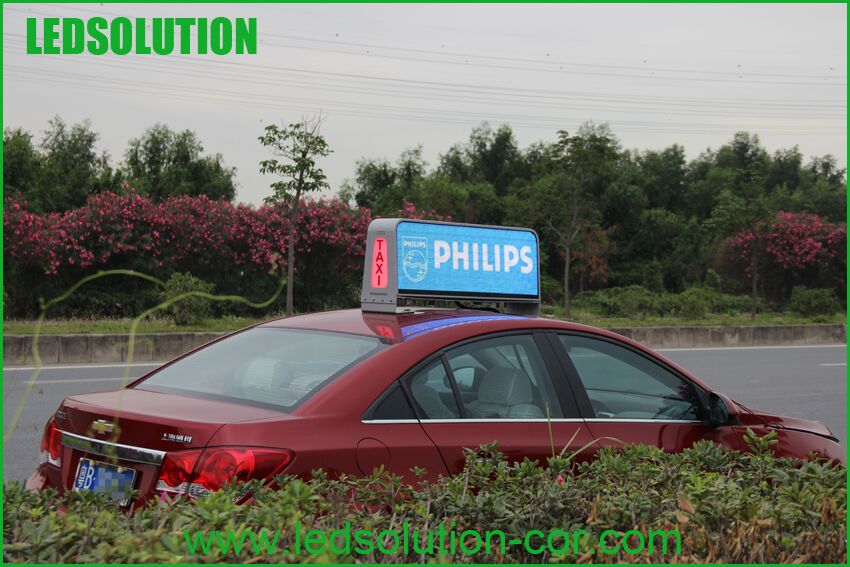 LEDSOLTUION will always be dedicated on providing better products to the market and to our valued customers.
If you are interested in this product, please don't hesitate to contact us!
Original article:https://www.iledsolution.com/7000nit-high-brightness-taxi-top-led-display/
Request A Free Quote