At the end of Sep. 2015, LEDSolution has finished production and debugging of P16 outdoor curve led display, it performs very well in factory, the clients speak highly of our superior work!
With the development of LED technology, users now not only case about product quality but also pay attention to appealing appearance.
Due to characters of wide viewing angle and irregular shape, curve led display is very popular in recent years, they are widely used at commercial center, shopping mall, square or glorious hall for advertising.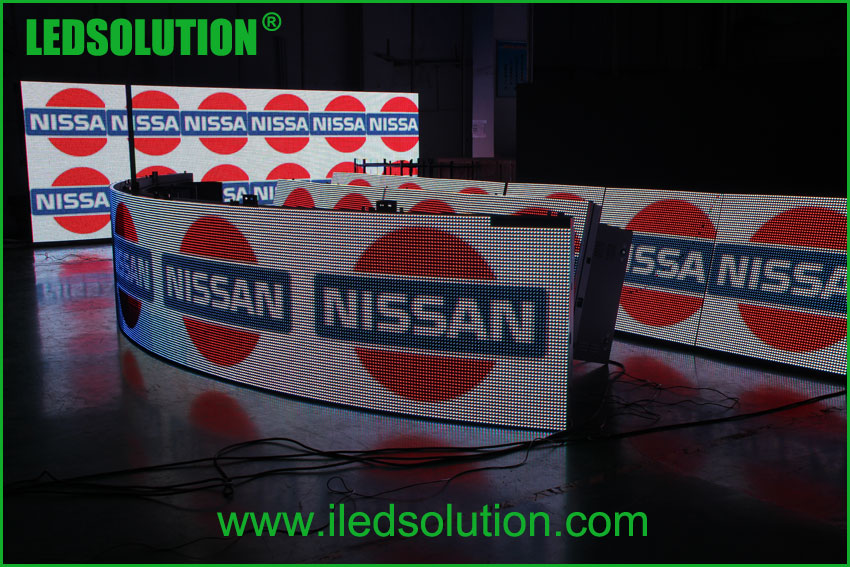 The following are outstanding features of LEDSolution's outdoor curve led display:
Seamless design.
LEDSolution curve led display is comprised of several curved cabinet, before production, we will confirm every details with our clients, such as arc length, radian, radius, height, etc. Thus, every piece of cabinet have fixed position, we ensure it is a completely curved surface without any seam.
High uniformity in color
For curve led display, we use dark black color plastic mask, they have high uniformity in color. So, no matter viewers looking from which direction, it will have no color cast and shadow.
Optional brightness sensor
Curve led display is usually installed at commercial center or building surface, so its viewing distance is short. At the same time, viewers are sensitive about brightness because it is normally used both day and light.
Using a brightness sensor, brightness could be adjusted automatically according to usage environment, thus, viewers may feel more comfortable.
Customized service
For curve display, LEDSolution could customize pixel and cabinet size according to project and radian request. Clients will get a whole solution from LEDSolution team, including supporting structure suggestion, pixel recommendation, control system instruction, etc.
If you are interested in this product, please don't hesitate to contact us!
Inquiry us
We will come back to you within 2~24hours on working days.