LEDSOLUTION Energy Saving LED Display
Keywords: Energy Saving LED Display
6 Years ago, LEDSOLUTION start to research and develop the energy saving LED Display and has released the Energy saving LED Display in year 2011. Now more and more customer pay attention on energy saving, LEDSOLUTION start a promotion for P10 outdoor energy saving LED Display.
Normal P10 LED Module VS Energy Saving LED Module

Normal P10 LED Cabinet VS Energy Saving LED Cabinet
Average Power consumption for P10 Outdoor LED Cabinet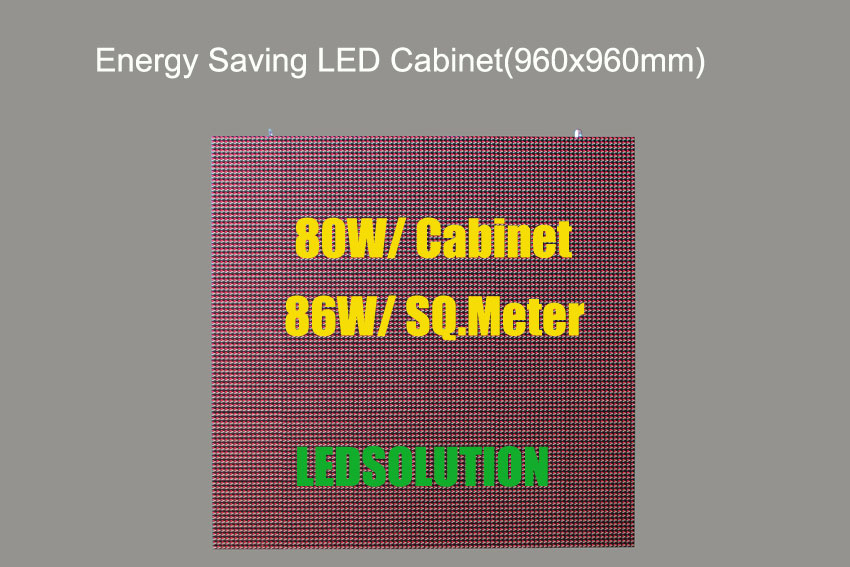 Parameter Normal P10 LED Cabinet VS Energy Saving LED Cabinet
Parameter
NormalP10 LED Cabinet
Energy SavingP10 LED Cabinet
Pitch
10mm
Brightness
7000nit
Color temperature
6500 deg. K
Viewing angle – Horizontal (50% brightness)
130 (+65/-65) deg.
Viewing angle – Vertical (50% brightness)
60(+30/-30) deg.
Panel weight
53 kg
Panel width
960 mm
Panel height
960 mm
Panel depth
170 mm
Panel area
0.9216 sq. m.
Panel material
Epoxy paint coated Cold rolled steel
Ingress protection (front/rear)
IP65/IP65
Operating temperature range
-30 to +60 deg. C
Humidity operating
10% ~ 90%
Pixel type and configuration
1R1G1B
Resolution per panel
96 x 96
Dot per panel
9,216
Dot per sq. meter
10,000
LED per sq. meter
30,000
Recommended minimum viewing distance
7.6
Recommended best viewing distance
10~100
Colors
281 Trillion
Grey scale (linear)
65,536 levels per color
Brightness control
100 Levels
Contrast ratio
1,000:1
Processing depth
16 Bit
Video frame rate
60 Hertz
Display refresh rate
180~3,000 Hertz
Input voltage (nominal)
110 to 240 VAC
Input power frequency
50 to 60 Hertz
Input power (max)
530 Watts / cabinet
200 Watts / cabinet
Input power (typical)
212 Watts / cabinet
80 Watts / cabinet
Lifetime (50% brightness)
≥100,000
Red wavelength (dominant)
620~625
Green wavelength (dominant)
525~530
Blue wavelength (dominant)
470~475
Multimedia data format
DVI,MPG,AVI,WMV,RM etc.
Data interconnection
UTP Cat 5/Optical Fiber
Mounting system
Fixed with 4pcs M10 bolts
Contact us today to have a energy saving solution, info@ledsolution-cor.com
Inquiry us
We will come back to you within 2~24hours on working days.