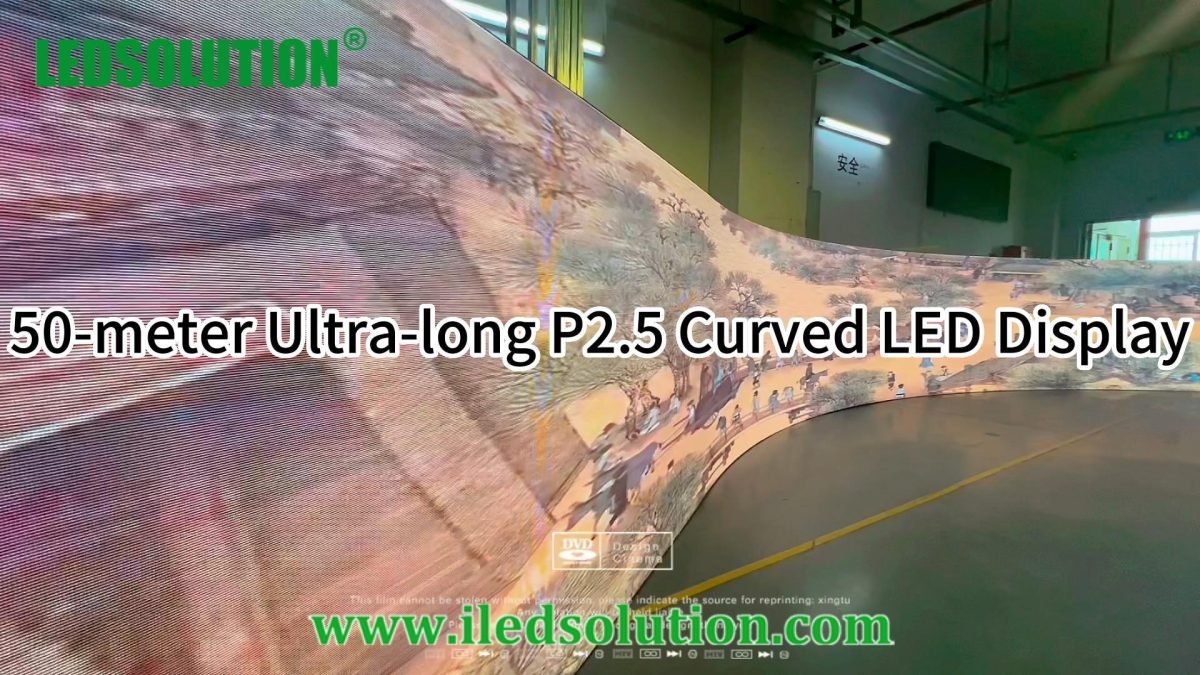 LEDSOLUTION 50-meter Ultra-long P2.5 Curved LED Display
LEDSOLUTION proudly presents a new project case – the all-new 50-meter ultra-long P2.5 curved LED display! We are excited to made this customized product offering our esteemed customers a truly seamless, perfectly curved display solution.
This 50-meter ultra-long P2.5 curved LED display comes with a plethora of remarkable advantages. Firstly, we have achieved seamless splicing, ensuring you experience a flawlessly connected visual display without any bothersome black borders or disruptions, providing an immersive viewing experience.
Secondly, our display is meticulously designed to achieve a perfect curve. This technological breakthrough guarantees that the screen's curvature fits your specific needs impeccably, delivering outstanding visual performance whether used indoors or outdoors, providing a captivating visual experience for your audience.
Furthermore, our system boasts a horizontal pixel number of over 20,000 pixels, allowing you to effortlessly handle large volumes of image and video data, presenting more delicate and vivid content. Whether it's conferences, exhibitions, concerts, or sports events, this feature ensures superior image representation and attractiveness.
Beyond the impressive technological advantages, our 50-meter ultra-long P2.5 curved LED display offers pure front maintenance capabilities. Pure front maintenance simplifies the maintenance process significantly, eliminating the need for disassembling the display and reducing maintenance time and costs. On the other hand, pure customization provides you with more personalized choices to ensure the display seamlessly integrates with your event settings and brand identity.
LEDSOLUTION has always been dedicated to continuous innovation, providing customers with exceptional LED display solutions. If you have custom needs, please feel free to contact us. All inquiries will be responded within two hours during working time.
Contact us today to get a free quote for your project, all inquiry will be replied within 2-4hours during the working time.
Request A Free Quote