When going through LEDSOLUTION's catalog or product specifications, sometimes, some customers are confused on the power data we put. Here we are going to make it clear for you.
First of all, we'd like to clarify that, what we wrote on our catalog and product specification sheet are the input power, NOT the actual power consumption of the LED display. Input power is calculated by the total watts of the power supplies used on this LED display, which is higher than the power consumption value.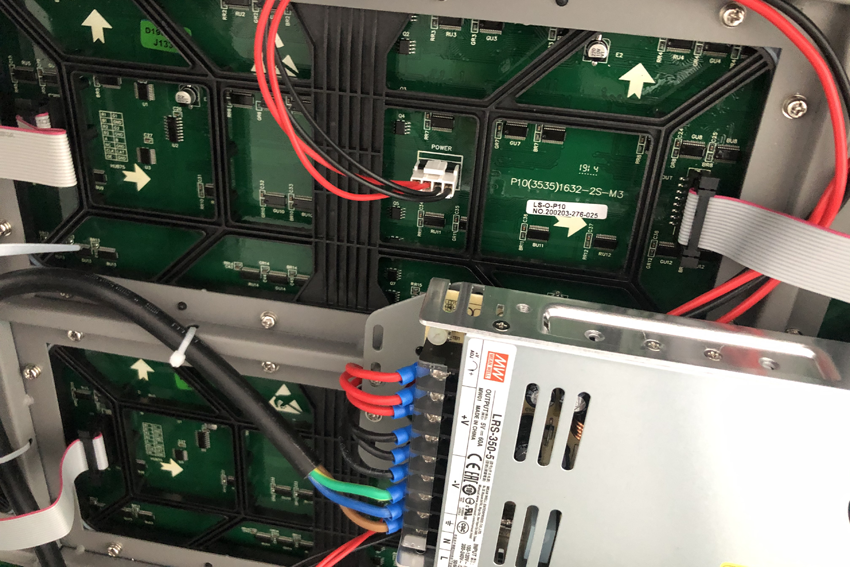 When all the LED lamps on the LED display are on (in other words, the whole LED display is in white), the LED display reaches the max power consumption. When the LED display is playing normal video or images, not in pure white, we say it's the average power consumption. Generally speaking, average power consumption is about 40% of the max power consumption, but it also depends on the display contents.
When seeing the max input power, the end user will know how much power they should prepare to support the LED display.
Let's take our P3.91 outdoor 500x1000mm die-cast LED display as an example:
P3.91 Cabinet size: 500mm x 1000mm
Max power consumption: 360W/cabinet
Average power consumption: 144W/cabinet
Max input power: 600W/cabinet
Average input power: 240W/cabinet
Some customers asked: why you use total 600W power supply on this cabinet, while the max power consumption is only 360W/cabinet?
Actually, when we design the LED cabinets, we need to consider factors such as the max power consumption of this cabinet, power supply watts, efficiency and quantity, etc.
For a cabinet with max power consumption of 360W, we do not use 400W power supply, that's mainly because:
As we know, the work efficiency of the power supply is not 100%, therefore, in LED display industry, it's common to prepare extra 20% to 30% power on the power supply. 400W is only 11% up,not enough.
At the very moment when the whole LED display is powered on, the instantaneous current is higher than normal working current. The power supplies we use should be able to stand this instantaneous current. On this condition 600W is safe. After the LED display is power on for a while and it's working normally, the working current will come down to average level and stay stable.
To sum up, as a professional LED display manufacturer, LEDSOLUTION will always dedicated to offer products with safe, reasonable and cost-effective design.
If you have any further question to our products, we are open to discuss with you.
Inquire us​
We will come back to you within 2~24hours on working days.