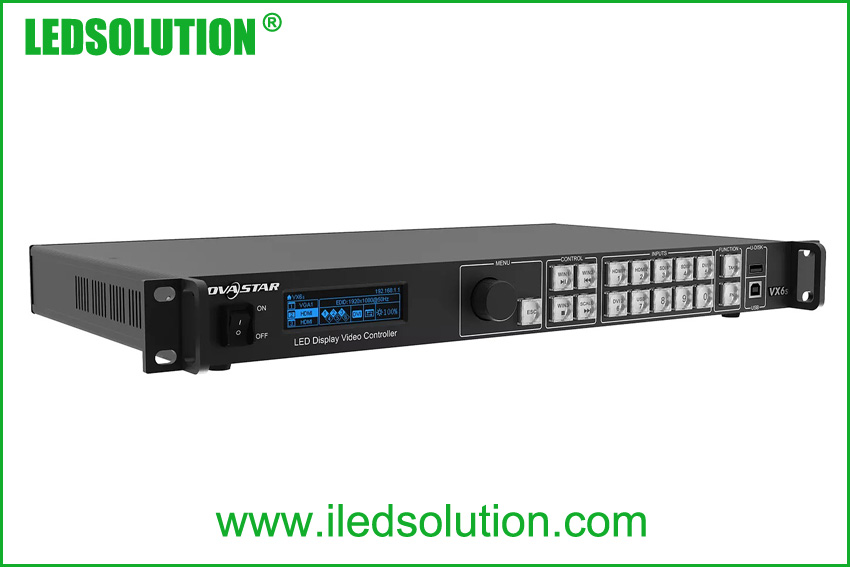 VX6s
The VX6s is an all-in-one controller that integrates sending card functions with video processing. Designed with powerful video processing capability, it supports 7 video
inputs and 6 Gigabit Ethernet outputs.
Based on the powerful FPGA processing platform, the VX6s supports multiple transition effects, such as quick seamless switching and fade, providing flexible display controlling and outstanding video presentations.
The VX6s is equipped with an expansion card which can connect a USB drive to play the media files stored in it. By connecting a mouse and monitor, the USB playback can be intuitively monitored in real-time.
Features 7 input connectors: 2 × 3G-SDI, 2 × HDMI 1.3, 2 × DVI, 1 × DVI+DVI
LOOP and 1 × USB playback.
Supports 3 × windows.
Supports quick and advanced screen configurations.
Switches the PVW to PGM by pressing only the TAKE button in the switcher mode.
Supports adjustment of input resolutions.
Supports device redundancy settings.
The maximum loading capacity of video output is 3.9 million pixels.
Supports brightness adjustment of the screen loaded by the VX6s.
Multiple VX6s units can be cascaded.
Supports auto fit function of windows.
The maximum video output width and height are both 4096 pixels.
A total of 16 user presets can be created and saved as templates. The templates can be used directly and conveniently by pressing the number buttons on the front panel.
Any HDMI or DVI input source can be used as the synchronization signal to achieve vertical synchronization of outputs of multiple devices.
Features an intuitive OLED screen and clear button indicator prompt in the front panel, simplifying system control and operation.
Inquire us
We will come back to you within 2~24hours on working days.