Flying Theater is also called "Dome Theater" or "dome movie". Which is a large screen film that appeared in the 1970s. Super wide angle fisheye lens is used for shooting and playing. The auditorium is dome shaped, and the screen is hemispherical. The audience is surrounded by it, and the screen looks like the sky. The screen image is large and clear, extending from the front of the audience to the back, and accompanied by stereo ring sound, which makes the audience feel like they are in the middle, and the on-site effect is very strong, like the feeling of flying, so it is called " Flying Theater ".
Flying Theater is one of the most attractive large-scale indoor entertainment projects today, with its unique suspension/push back six degree of freedom seats
In combination with the content of the dome screen film, it can create an immersive panorama surrounding the real flight experience, and leap into a magnificent, grand and shocking scene.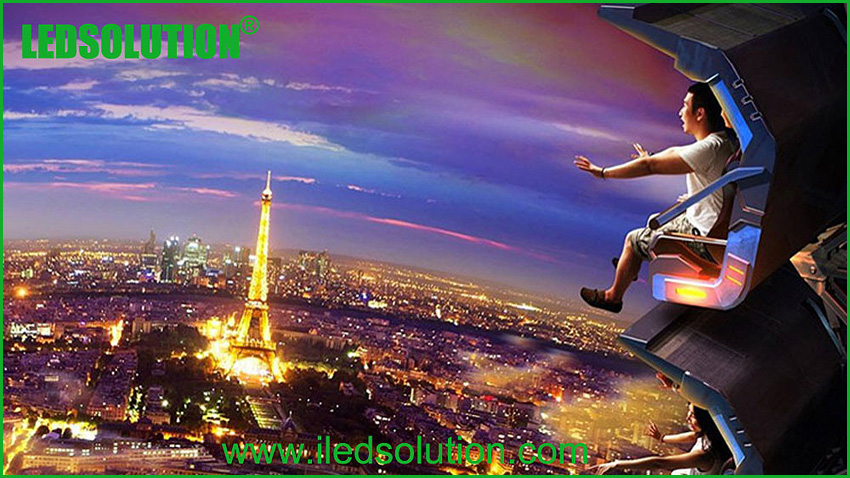 Making Flying Theater Screen with LED has become more and more mainstream. LED has great technical advantages over traditional projection. The Flying Theater LED Dome Screen has higher brightness, higher contrast, wider color gamut, longer lifespan, easier maintenance, and more flexible size.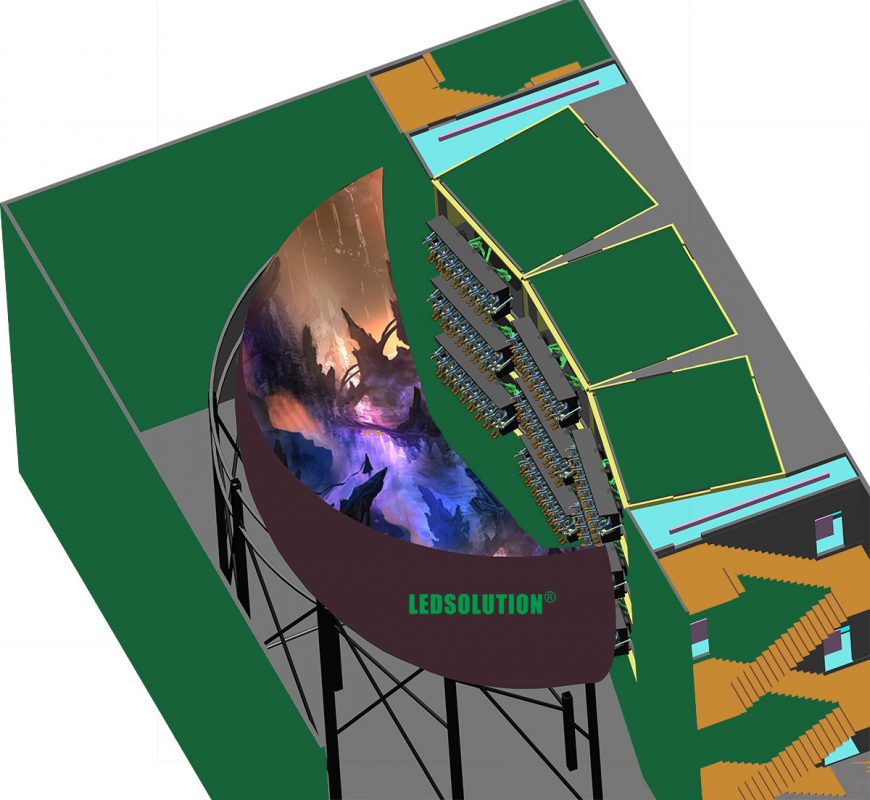 LEDSOLUTION can customize the diameters of 10m, 12m, 15m, 18m, 20m, 24m, 30m+for customers. It can achieve 4K, 6K, 8K, 10K, 12K, 24K, 32K+and other resolutions.
TheaterX Series – Flying Theater LED Dome Screen Specification
| | |
| --- | --- |
| Product Series | TheaterX Series |
| Application | Indoor flying theater |
| Pitch option | 1.5mm, 2mm, 2.5mm, 3mm, 4mm, 6mm |
| Dome Diameter | 10m / 12m / 15m / 18m / 20m / 24m / 30m |
| Resolution(Dome arc pixels) | 4K ~ 6K ~ 8K ~ 10K ~ 12K ~ 24K ~ 32K |
| Brightness | 400 to 800nit |
| Color temperature | 6500deg. K |
| HFOV | 180° |
| VFOV | 120º to 180º |
| Service access | Front & Back Service |
| Ingress protection (front/rear) | IP23 |
| Operating temperature range | -30 to +60 deg. C |
| Humidity operating | 10% ~ 90% RH |
| Pixel type and configuration | 3in1 SMD |
| Color Gamut | DCI-P3 100%;sRGB 140% |
| Contrast ratio | 30000:1 |
| Processing depth | 16bit |
| Video frame rate | 60HZ / 120HZ optional |
| Display refresh rate | 3840HZ / 7680HZ optional |
| Acoustically transparent | Optional |
| Input voltage (nominal) | 110 or 220VAC |
| Input power frequency | 50 to 60 Hertz |
| Input power (max) | 500Watts/ sqm |
| Input power (typical) | 200Watts/ sqm |
| Lifetime (50% brightness) | ≥100000 |
| Controller | LEDSOLUTION Dome Control System |