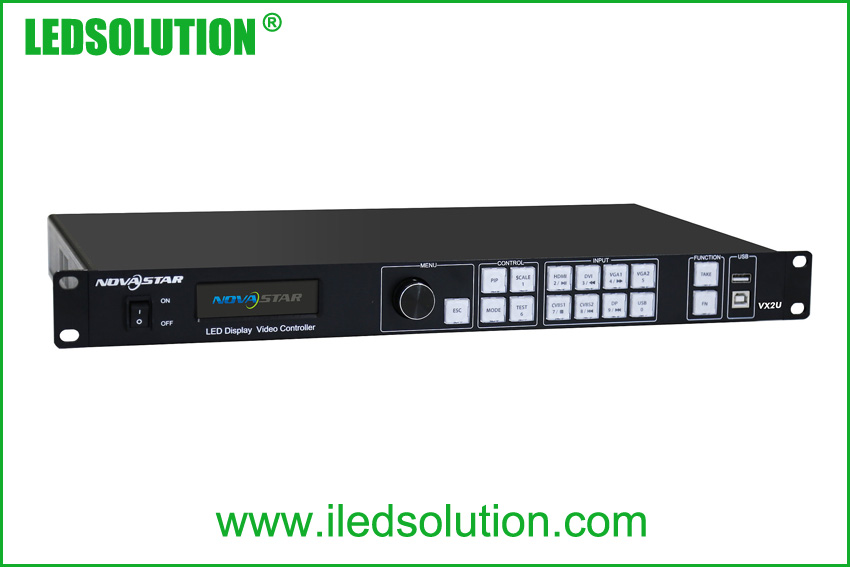 VX2U
VX2U is a professional LED display controller of NovaStar. Besides having all the functions of an LED display controller, it also features powerful front end video processing. With high image quality and flexible image control, VX2U is able to meet the demands of media industry.
The inputs of VX2U include CVBS×2, VGA×2, DVI×1, HDMI×1 , DP× 1 and USB×1. The supported input resolution is up to 1920× 1200@60Hz. The input images of VX2U can be zoomed point-to-point according to the resolution of LED display.
With seamless quick switch and fade-in/ fade-out effects to enhance and present pictures of professional quality.
The location and size of PIP (Picture in Picture) can be adjusted, which can be controlled at will.
Adopts Nova G4 The screen is stable and flicker free without scanning lines. Images are exquisite and have a good sense of depth.
Able to implement white balance calibration and color gamut mapping based on different features of LEDs used by screens to ensure restoration of true colors.
HDMI/external independent audio input.
Supports high-bit video input, 10bit/8bit.
Loading capacity of video output: 1.3 million pixels.
Supports multiple controller montage for loading huge screen;
Supports Nova's new-generation pixel-by-pixel calibration technology and the calibration is fast and efficient.
Computer software for system configuration is not necessary. The system can be configured by one knob and one button. All can be done just by fingers. That's what we called Touch Track.
Adopts an innovative design to implement smart configuration. Screen settings can be completed within 30 seconds, which has greatly shorten the preparation time.
With an intuitive LCD interface and clear button indicator lights to simplify the control of the system.
Inquire us
We will come back to you within 2~24hours on working days.