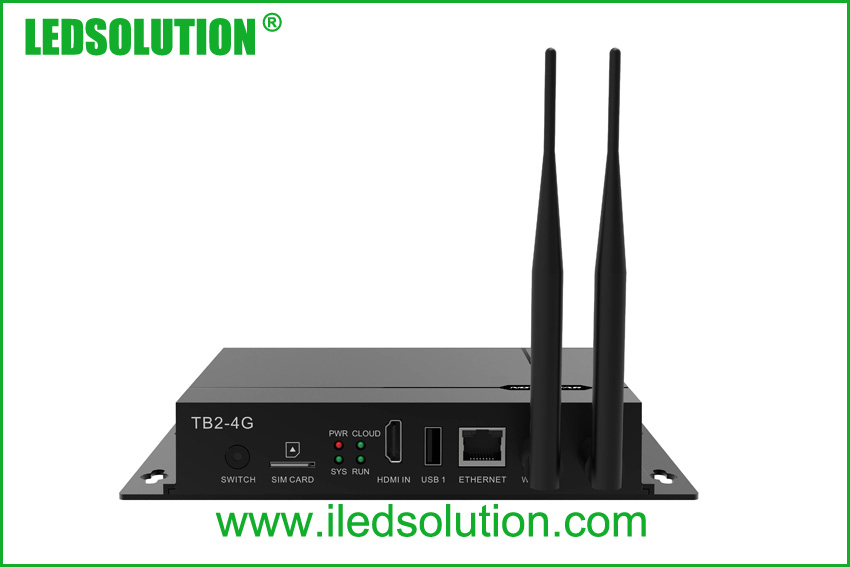 TB2
Novastar TB2-4G
Load capacity: 650,000
Processing capacity: 4 cores, 1GB memory + 8GB storage on board,optional 4G
Wifi function: √
Asynchronous switching: √
3G, 4G functions: √ (optional)
Redundant backup: ×
Stitching Carrier: ×
Application: Indoor and outdoor small fixed LED display,window transparent screen
Novastar Taurus series video controller is the second-generation multimedia player for small and medium-sized full-color LED displays.
Novastar TB2-4G characteristics:
Supports synchronous asynchronous dual mode.
Strong processing performance.
Comprehensive control solution.
Support WiFi AP connection.
Support 4G module.
Support USB connection to PC.
The comprehensive control solution not only supports program release and screen control on the PC, mobile phone and LAN, but also supports remote centralized release and monitoring.
Novastar TB2-4G:
Supports gigabit wired networks.
Supports HDMI input and full-screen adaptive playback.
Supports loading capacity 650,000 pixels,width up to 1920 pixels and height up to 1080 pixels.
Support U disk program import and playback.
Support stereo audio output.
Onboard brightness sensor interface,automatic and timing intelligent brightness adjustment.
Application:
Novastar Taurus series is widely used in LED commercial advertising display, such as light pole display, chain store screens, advertising poster, small screens, retail store screens, door-to-head screens, car screens without a PC.
Powerful processing performance
4-core processor, clocked at 1.2GHz
Support 1080P
1GB memory
Onboard 32GB storage, available 28GB
LAN program release and control
Remote remote program release and control
Comprehensive control solution
PC program sending and control
Remote cluster monitoring
Mobile program release and control
Support synchronous and asynchronous dual mode
Novastar TB2-4G (optional 4G) supports synchronous and asynchronous dual modes, which is convenient for users.
Inquire us
We will come back to you within 2~24hours on working days.