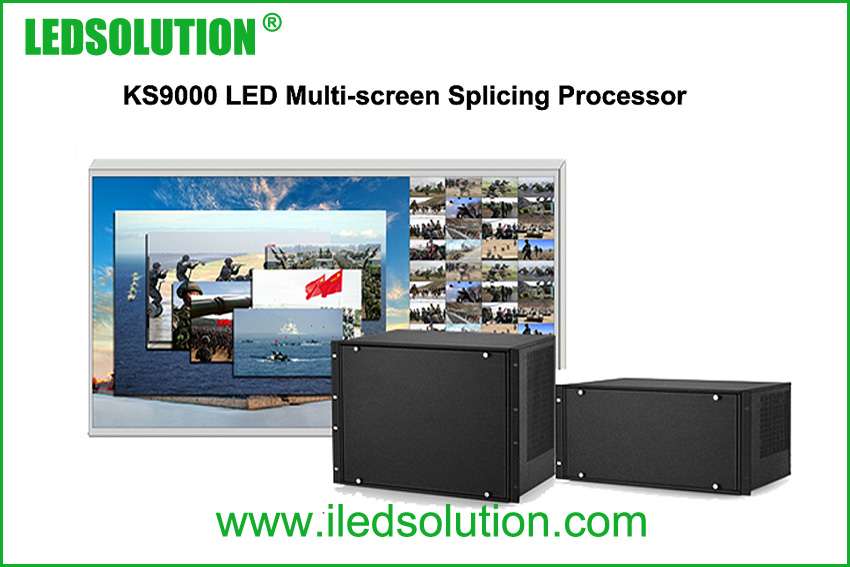 LED Splicing Processor KS9000
Up To 78 Million Pixels
KS9000 supports up to 30 channels of DVI output. It's resolution can be up to 78 million pixels. The maximum horizontal resolution is 120000 pixels, and maximum vertical resolution is 60000.
It supports multi-machine cascade to realize infinite resolution extension.
Flexible and Modular Hardware Architecture
KS9000 has a FPGA-based modular hardware architecture that all the inputs and outputs module can be customized.
The maximum number of inputs is 90. There are multiple signals to be selected including HDMI2.0/1.4/1.3, DP1.2, DVI, VGA, SDI, CVBS.
The maximum number of outputs is 30. The output can be configured as DP1.2 or HDMI2.0 or DVI.
Besides, KS9000 supports multiple power redundancy backup.
CrossInt Splicing Technology
KS9000Pro support KYSTAR CrossInt splicing processing technology, it can effectively eliminate the phase difference between different splicing modules, so as to avoid sub-pixel dislocation during picture splicing.
Up To 120 Windows Display
KS9000 can display 120 windows at the same time, which can easily complete multiple screen control and multiple windows arbitrary layout display.
Seamless Switching
KS9000 supports fade-in and fade-out seamless switching of signals and presets, without blank or delay during the process.
Wireless Operation
KS9000 can be controlled by Kystar App installed on smartphone or tablet wirelessly.
Cloud Control App Wireless Operation
KS9000 is equipped with cloud control app, users can use intelligent mobile devices to control it wirelessly.
Inquire us
We will come back to you within 2~24hours on working days.